Date: Sep 25, 2021
Qme Spotlight Ecosystem is working with communities to develop a catalyst to support national change for at-risk youths: This article showcases how we reduce gun violence for youth in Philadelphia. Urban Farming can be the perfect influence and power skills building for youth in black and brown communities to keep them out of harm's way.
Source: Written by Dr. Gaylord C. Neal III, PhD, Communications Strategist at Qme Spotlight Ecosystem
Story:
Tackling climate change and energy Issues in America deserve our attention. There is another topic gaining much steam as it gets the attention of the PA Department of Agriculture and it is called "urban/diversity farming". Urban farming can have a huge positive impact on Philadelphia and their diverse communities. It can even reduce gun violence and associated deaths. Philadelphia needs solutions like this. In 2020, Action News reported that juveniles are under fire, and bleeding on streets across Philadelphia. 70+ juveniles had been shot in 2020. That's a 43% increase compared to the previous year. Source: https://6abc.com/philly-crime-stats-philadelphia-shootings/6265095/
Philadelphia is in a great position to expand an "Urban Pod Farming'' program which was run successfully with a summer school grant from the PA Department of Agriculture. The program was run by and implemented by the Pinnwheel Group (nonprofit) - Theresa McCormick is CEO and Andre Sawyer is COO. They chose to implement the "Urban Pod Farming'' program at the Boys' Latin Middle School in Philadelphia, PA (https://www.boyslatin.org/ . "Sister Theresa '' as we call her has a background in agriculture and farming. Let's just say it runs in her blood. "Brother Andre '' as we call him, is a Philadelphia native and Central High School Graduate (236 Class) who is passionate about being a positive advocate for change in black communities. They invited our firm, Qme Spotlight Ecosystem, to visit their presentation of the "Urban Pod Farming '' program which was in its 2nd week of operation for the summer. Our CEO, Bentley Charlemagne, and Gaylord Neal Qme Managing Partner I showed up not really knowing what to expect. What we heard and saw, blew our minds.
Our Observations
We heard young people who were in the program explain the names of the herbs and vegetables they were growing. They spoke of the latin and english names of the plants and explained their origins from a science perspective. They explained their modernized "Urban Pod Farming'' approach and the science involved. One young student from the program explained that he realized that he was the parent to these plants and that he had taken responsibility for their care and nurturing. He explained that his reward was seeing the "Fruit" which these plants produced because the harvest can be eaten and would feed him and others. Andre Sawyer (COO of the Pinnwheel Group) spoke about how the students were being kept off of the streets due to their involvement in the program and were safer because they were not available for gun violence incidents. He further explained that the Pinnwheel Group had been successful at gaining funding to pay the students during their program involvement. It was a paid job for these students to learn about urban farming, agricultural science and food creation.
Russell C. Redding, the PA Department of Agriculture Secretary, was in attendance and spoke about the importance of urban farming and why programs such as this were so critical to Philadelphia and the state of Pennsylvania.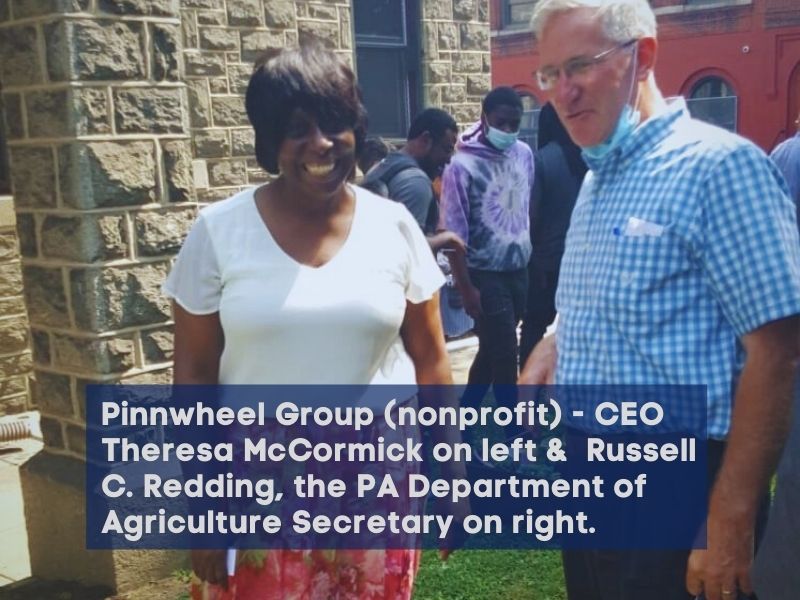 Soon after the indoor presentation, we were all asked to come outside and to see the impact of the program (only in the 2nd week). Once again, we were blown away by the presentations of the students.
The Impact
After the program ended, Bentley and I walked to the car and looked at each other and said, "That was incredible. We have to do something to help this program expand and succeed. Our communities need this." There are vacant properties all over Philadelphia which could be utilized by the communities in such a wonderful way. It was powerful because we saw several powerful and exciting things happening. We heard how:
Urban Farming can reduce the impact of "Gun Violence" in Philadelphia
Urban Farming can positively impact "workforce development" (jobs for youth, teachers, and local farming communities)
Urban Farming is linked to "STEAM education and training"
Urban Farming can help shape how young people can "take care of their communities and families and can help build self value"
Bentley and I went back to work the next day and galvanized our digital solutions firm to create a solution to advance urban farming in Philadelphia and Pennsylvania and to support the farming community overall. We even researched new technologies which can help farmers become wealthy within 5 years.
Our Decision
Today, we announce that we have developed a digital solution to help extend the farming leadership of Philadelphia and PA. It will positively impact and change our communities. We invite interested partners, collaborators and farming/agricultural newsmakers to team with us to drive urban farming in our communities throughout Philadelphia, and across the country.
Let's reduce gun violence and associated deaths of our youth by harnessing urban pod farming and local farming markets. We have more to share. Contact us.
About the Pinnwheel Group
The Pinnwheel Group is a nonprofit organization dedicated to developing urban and rural farming solutions for communities of color. They enjoy teaming with the PA Department of Agriculture, the Philadelphia School System and other foundations and individuals to help proliferate urban farming pod programs which can reduce gun violence and associated deaths, increase workforce development, provide STEM AG education and training and teach life lessons about nurturing and taking responsibility for our communities. (Add the website)
About Qme Spotlight Ecosystem
Founded in 2009, Qme Spotlight Ecosystem (Qme) (https://qmespotlight.com ) is a minority-owned company and has grown in size and capabilities and now has core competencies in building brand identities & software solutions to elevate & empower ideas, business and communities to grow. Qme specializes in Procurement Solutions (PPE, Printing, and Promotional Branded items), Discovery & Strategy, Sales Strategy, Planning and Implementation, Digital & Marketing Solutions for Web & Mobile Applications, Creative Design, Influencer's Marketing, Social Media Marketing, Business Consultation (Strategy, Planning, and Implementation), Multimedia Content Development (Photography, Videography, Drone Aerial Imagery, etc.) and Printing Solutions.
Contact Information
Gaylord Neal
Communications and Marketing
Qme Spotlight Ecosystem